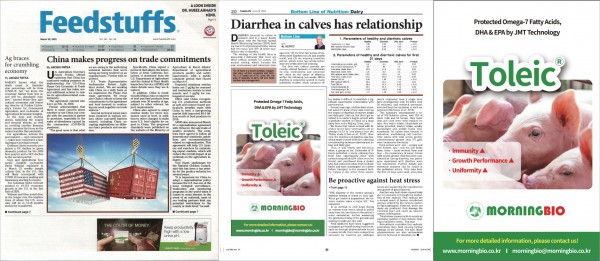 (↑ Click) 
Morningbio has started posting product advertisement on international livestock magazine of Feedstuffs(USA)
Expecting continuing interests and support from our customers, we will introduce pioneering products and 
technologies to the animal feed industry along with diverse marketing activities.
Toleic is the refined and highly-concentrated ethyl ester product of special fatty acids called palmitoleic acid, 
which is obtained from fish oil through the esterification, purification and molecular distillation processes.
The special fatty acids(C16:1) akin to sow milk, anti-inflammatory effect and boosting immunity (DHA, EPA), 
they will bring the advantage such as improvement of ADG, nutrient digestibility and FCR in weaning pigs.